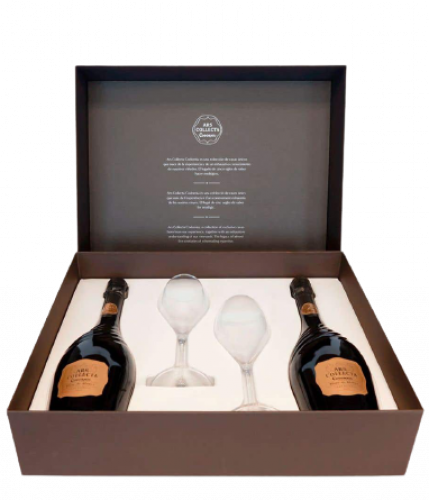 Ars Collecta Blanc de Blancs Reserve Case
The Ars Collecta series responds to Codorníu's oenological legacy of more than five centuries creating cavas. These are handmade at Celler Jaume, a micro-winery where innovation, research and exhaustive prior care of the vineyards come together to create cavas of the highest quality, expressive and of guaranteed longevity. Ars Collecta Blanc de Blancs Grand Reserve has a unique blend of traditional varieties: Chardonnay, Xarel lo and Parellada. There's a reason why this cava was chosen the Best Grand Reserve Cava in the world at the Mundus Vini 2020 international awards. We suggest this case with two bottles and two glasses to give to someone you really appreciate. You can't go wrong with it.
Suggestions
This cava provides an extraordinary unctuousness typical of the predominant Chardonnay variety. This unctuousness, combined with the very high acidity, opens up a wide range of gastronomic combinations. All kinds of seafood (prawns, Norway lobsters, scallops, barnacles), fish with mild sauces and prepared raw (sashimi, sushi, carpaccio or tartare), cod, monkfish, all kinds of rice dishes, lightly seasoned and smoked meats. It is also a good companion to tasting menus, gastronomic appetizers and fruit-based desserts.
Tasting notes
ViewWarm yellow hue with golden tones, clear and bright. Fine continued bubbles and a persisten crown, indication of a good fermentation in the bottle.
NoseSoft notes of toast appear, interspersed with stones fruits: peaches and nectarines, on a background of brioche and nuts from the long aging process. Very complex, with elegant notes and an aromatic amplitude that improves with time in the glass.
MouthAmple, complex, balanced and creamy.
AN UNFORGETABLE
VISIT
CODORNIU
You might also be interested